Vacation in Mexico is a great choice because of the country's various attractions, from the bustling metropolis of Mexico City to the tranquil beaches of Tulum. U.S. News has developed a list of the finest locations to visit in Mexico based on factors like cultural offerings, beach and nightlife options, traveller ratings, and the advice of experts to help you choose the perfect destination for your vacation.
Oaxaca
From the valley, Oaxaca bursts out like a pinwheel of dazzling hues. Colonial-era structures have bright hues of every imaginable shade, from cobalt blue and red to ochre yellow and mint green. Oaxaca is a stunning city and one of Mexico's most important centres.
Oaxaca, the state capital, is recognised as a cultural and historical hub worthy of a UNESCO World Heritage label for its significance in the development of Mexico. It was formerly the capital of the ancient Zapotec people, and the city's paved, cobblestone streets and colonial architecture directly resulted from Spanish influence. The Templo de Santo Domingo, the city's principal church, stands as a shining example and looks down on the bustling Centro Historico.
Beautiful stores, open plazas, winding alleyways, chic cafés, and elegant hotels make this area the ideal meeting place for old and modern Mexico. Monte Alban, a prominent Zapotec city with one of the finest preserved remains in Mexico, is located only 10 minutes from the city.
Cozumel
Cozumel, an approximately 185-square-mile island off the Yucatán Peninsula, is renowned for its crystal-clear turquoise seas and powdery white beaches, which attract visitors from all over the world, especially during the winter. Cozumel's coasts are often disturbed by passing cruise ships, and the talk of visitors sometimes breaks the island's quaint ambience. The commercial centres along the coastline of Cozumel remain busy throughout the year because of the island's widespread popularity.
Cozumel is a popular tourist destination, but don't let the crowds stop you from exploring this little Yucatán island. You may take a glass-bottom boat tour of the island, go fishing or diving on the shallow reefs around the shore (this is undoubtedly one of the top diving sites in the world), or relax on a peaceful beach. You can get the inside scoop on this little island and enjoy live music at a local tavern after the cruise ships have left.
San Miguel de Allende
San Miguel de Allende is a cultural and historical treasure trove where art, architecture, and traditions burst with vivid colour. Each year, several publications name this colonial gem the greatest city in the world, and it's easy to see why. That's for a good cause, too.
Quite simply, San Miguel de Allende is beautiful. Parroquia de San Miguel Arcángel, the light pink church in the city's heart, serves as a beacon. Fronting a collection of cafes and art galleries, the plaza serves as the city's de facto cultural centre. High-end boutique hotels, hundreds of galleries, boutique hopping, and more can be found along the valley's cobblestone streets, which radiate from the city centre.
There is always something going on in the city, from festivals to parades to fireworks displays. Expats love San Miguel de Allende because the city is welcoming, and the locals speak English well. The city itself has been designated a World Heritage Site.
Puerto Vallarta
This is more than simply a trip to a relaxing beach resort. Puerto Vallarta, or "Vallarta" for short, has one of Mexico's most distinctive and upscale coastlines while retaining a friendly, small-town vibe. It's a similar story across the hotel and restaurant alternatives; sophistication and practicality coexist.
Puerto Vallarta is more than the Banderas Bay that snakes down the coast or the palm tree-lined Sierra Madre mountains that loom tall to the east, which is the features most often brought up to describe this town on Mexico's Pacific coast. Sample the delectable cuisine, hunt out a unique shop in the Zona Romantica, relax with a trademark drink at a bar on the Malecón, and dance the night away to a salsa rhythm at a Havana-style nightclub. Sign up for one of the top Puerto Vallarta excursions when you want assistance getting outside your resort. And if you're a fan of cruises, you'll be happy to hear that discounts are available all year long.
Playa del Carmen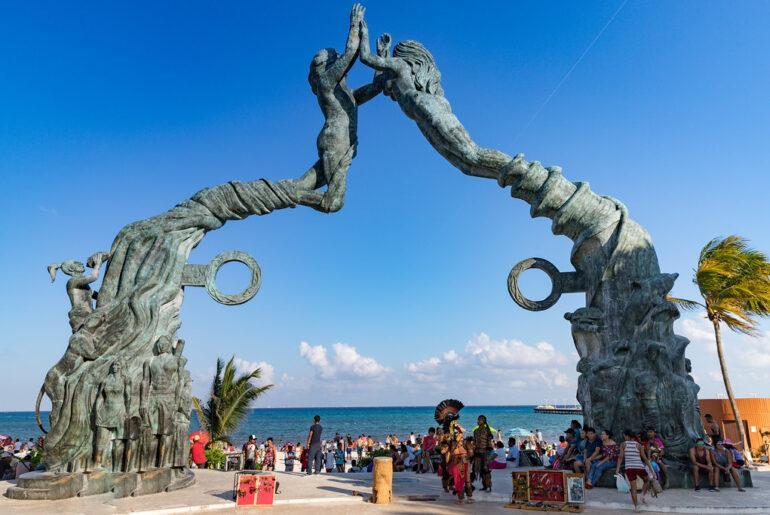 If you had said 15 years ago that Playa del Carmen would be one of the top cities in Mexico, people would have looked at you like you were crazy. For one thing, Playa del Carmen wasn't always the sprawling resort it is now; it started as a sleepy fishing community on a strip of white Caribbean beach bordered by vegetation.
People who lived there at first drew in passing travellers from Europe and South America. In contrast to how things were, things have changed dramatically recently. A port, paved streets, motorways, a port, and round-the-clock electricity have transformed the formerly sleepy fishing town into a modern city. Because of so many early visitors deciding to remain, Playa del Carmen is now among Mexico's most ethnically and racially diverse cities. It's also become a sophisticated metropolis with some of Mexico's finest hotels.
Although Mexico's coastline is stunning, the country is known for much more than its beaches.
Lastly, read more about travel around the world here.